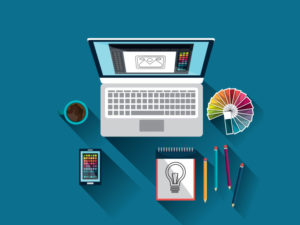 Graphic design gives your business the compelling communication edge that it needs to stay ahead of your competition. Today's business needs an innovative mind, and nothing unleashes this more than a business that can visually communicate with its target audience in the most innovative way.
Why does graphic design matter to your business?
As a business, you need several channels of communication between you, your business and your stakeholders. Material like brochures, business cards, leaflets, banners etc are always better done by a graphic designer.
Graphic designing is not limited to written work. Online and mobile applications also benefit from graphic designing. this makes them stand out and more appealing to the consumer. Any communication material can be made to look better and deliver its message up to 5 times better when put through the hand of a good graphic designer. A well put together graphic design can boost your marketing efforts, educate, or persuade your target audience and convert them into sales.
What is the Purpose of Graphic Design?
The main purpose of graphic designing is to communicate. The blend of photography, illustration, motion graphics together makes it easy to communicate your message to your target audience in ways words alone cannot.  You can put a thousand words worth of message in one well good graphic design or even communicate several messages in one go.
What can you use graphic designing for?
Creating a good Branding strategy:
Graphic designing is the best foundation is formulating a good brand strategy. This strategy includes but is not limited to.
Logo design
Creating posters,
Designing business cards,
Banners
Designing of websites
Improving mobile apps visuals
Social media visuals
Improving the user experience
Graphic design is key in any type of business interface. Consumers need simplicity in all they see. Graphic designing makes the process from seeing to decision making as simple as possible and as quickly as possible.
Large blocks of content can be turned into simply mazing images and graphics. This makes it easier for the consumer to understand and possibly easier for them to decide. Graphic designing saves both the business owner and the consumer valuable time.
Improve website navigation
A cluttered website is no good as this will confuse your consumers and earn you a bad review. Graphic designing helps navigation of an app or website become simpler, this improves retention of viewers and consumers.
Graphic design creates a positive impression on all who will be interacting with the material you put out. Make the right impression all the time when you invest in well-rounded graphic designing. This will leave a lasting impression and cultivate business relationships that will last a lifetime.
Improve brand recognition.
The major advantage of Graphic designing is that you can create a unique brand image that will reflect the companies' values and goals. A unique logo design also makes a long-lasting impression that will be edged into your consumers' minds. When well-implemented graphic designing will make your business stand out and be easily recognizable among the competition.
The advantages to graphic designing are limitless and your business is guaranteed to benefit from investing in good graphic designing. In case you are still in doubt here are a few examples of designs by our team at Mogitized.